Learning analytics workshops provide an opportunity for faculty members and staff to gain an overview of learning analytics, explore some of the Learning Analytics Project's pilot tools, and discuss the pedagogical and ethical considerations that arise when working with learning data.
September 18, 2019: Improving your multiple-choice assessments with Canvas Quiz Statistics
Canvas Quiz Statistics is useful tool that provides instructors with data and visualizations, including the highest and lowest quiz scores, the average amount of time spent in a quiz, and the distribution of student responses. In this hands-on workshop, learn how Canvas Quiz Statistics can help you reflect on and refine quizzes and quiz questions.
Register now for our Canvas Quiz Statistics Workshop on September 18.

October 16, 2019: Using the Learning Analytics Tool OnTask to Provide Timely, Personalized Feedback
This workshop provides an introduction to OnTask, a learning analytics tool that enables instructors to send students timely, customized messages based on the metrics that they set for their courses. Feedback can range from targeted suggestions for students at-risk to enrichment opportunities for high achieving students.
Following the workshop, faculty members who wish to pilot OnTask in their courses will receive ongoing support for implementation and evaluation from the UBC Learning Analytics and SoTL teams.
Register now for our OnTask Workshop on October 16.

November 7, 2019: Introduction to the Canvas API for Instructors
Did you know that Canvas has an API (Application Programming Interface) that allows users to interact with Canvas using code? All UBC students, faculty, TAs, and staff are able to access the Canvas API simply by virtue of having a Canvas account. 
In this workshop, instructors will learn how to access the Canvas API and add scripts that make teaching with Canvas more efficient. 
Register now for our Canvas API workshop on November 7.

December 3, 2019: Introduction to Learning Analytics for Instructors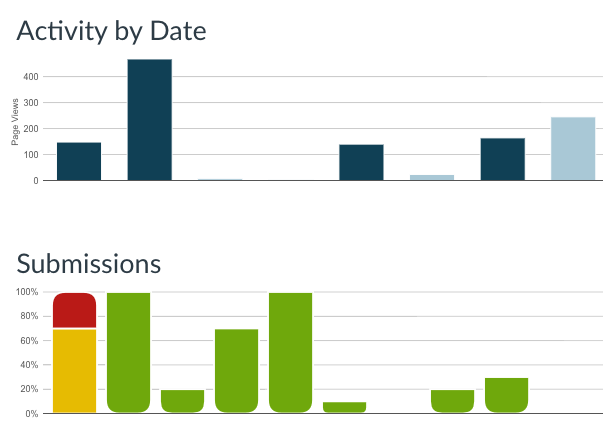 UBC instructors are invited to join us on December 3 for an introduction to learning analytics.
Learning analytics can be a useful evidence-based approach for creating more effective learning spaces and opportunities where students engage with course content, participate in course activities, connect with their peers, and are invested in learning.
This workshop will focus on exploring dashboards and tools for instructors as a means of observing, analyzing and reflecting on teaching and learning activity in your courses. You will gain hands-on experience using Canvas Analytics to observe and reflect on activity in your courses.
This workshop will also provide an overview of current learning analytics research and of UBC's learning analytics pilots. The facilitator will explore opportunities and areas in which learning analytics can support you, as an instructor, in improving teaching, learning, and engagement in your courses.
Register now for our Introduction to Learning Analytics Workshop on December 3.